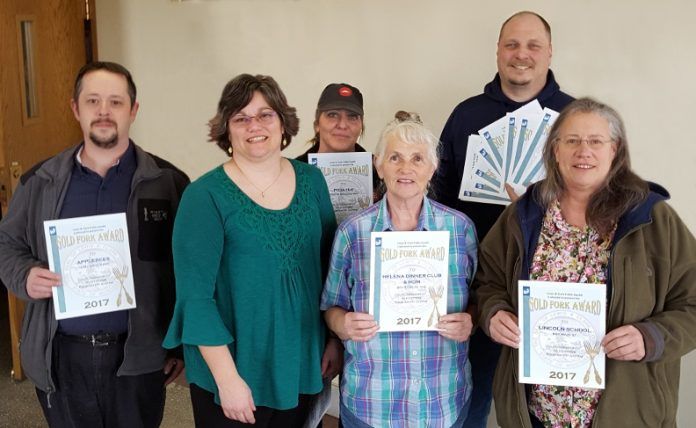 Gold Fork awards were established in 2011 to recognize establishments that have effective food safety that reduces or eliminates the risk of food borne illnesses. To win a Gold Fork, the establishment must have a documented food safety system including food safety management training for all staff, procedures to maintain safe food temperatures and have employee health policies set in place. The Helena Senior Center and the Augusta Senior Center were two out of the total 55 local food establishments recognized for their exceptional efforts this year.
RMDC Senior Services Program Director, Rod Applegate, explains why this award means so much to the Senior Nutrition staff, past and present, and the clients who eat there.
"RMDC is proud to have received the 2017 Gold Fork Award in our Helena Daily Dinner Club and the 2017 Silver Fork Award in our Augusta Daily Dinner Club. These achievements are the pinnacle of countless hours of hard work and dedication by our RMDC kitchen staff in order to maintain the highest quality of food and food safety for our senior clients. Special congratulations go out to Walt Hanley, Beth Lindsay, Deb Hoyrup, Kathy Rhoades, Mary Murray, Nancy Fisher, Liz Smock, and Shawna Donaldson for these outstanding achievements," Applegate says.
The Senior Centers across the Tri-County area serve a little over 35,000 meals each year through our noon-time congregate lunches, and a little over 67,000 annually through Meals on Wheels.