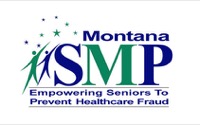 Montana Senior Medicare Patrol (SMP)
Empowering seniors to prevent healthcare fraud.
We know that healthcare-related paperwork can be confusing and that it's sometimes hard to know where to turn. Montana Senior Medicare Patrol (SMP) is here to help.
Area IV Agency on Aging SMP staff and volunteers advocate for seniors to help them understand their medical billing situations. SMP can help you learn how to read Medicare paperwork and look out for costly medical billing errors. SMP provides information, counseling and assistance to Medicare beneficiaries, family members, caregivers and local professionals.