ROCKY PRESENTS CHOPPED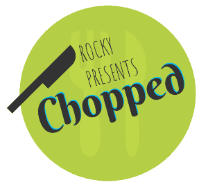 Join the Helena community for a fun and meaningful event designed to celebrate local food and Rocky programs! On March 7, 2020, Rocky's Neighborhood Center (200 South Cruse Avenue) will feature a cooking competition that will include hors d'oeuvres, refreshments, and a silent auction. The competition involves three chefs, three judges, and three rounds. Funds raised by the event will go directly into boosting Rocky programs that include Meals on Wheels, Head Start, and the Helena Senior Center. Tickets and more information are available below.
Contestants
---
---
PRESENTING SPONSORS
Additional Sponsors
Frequently Asked Questions
What is Rocky presents Chopped?
Rocky presents Chopped is a cooking competition event to raise funds for Rocky programs like Meals on Wheels and Helena Senior Center. The competition will involve three local chefs preparing a multi-course meal for a panel of judges. After two elimination rounds, the judges will determine a winner.
Who are the chefs?
The contestants include Rachel Conn (Saigon Alley), Claire Vert (Nosh), and Sam Collins (Toi's Thai).
When and where is the event taking place?
Rocky presents Chopped is on March 7, 2020 at 5:00 PM. The event will take place at Rocky's Neighborhood Center, located at 200 South Cruse Avenue.
Where can I get tickets?
Tickets are available for purchase using the link above, and cost $35.00. They will be available for physical purchase at the Rocky Neighborhood Center in January 2020.
What else will be going on during the event?
The event will feature hors d'oeuvres, refreshments, a silent auction, a raffle, and other fun prizes.
Is it a family event?
The event will be an adult environment with drinking and mature comedy. Please do not bring your children if that isn't a suitable environment for them to be in.