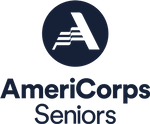 Retired & Senior Volunteer Program (RSVP)
The Retired & Senior Volunteer Program (RSVP) matches retired men and women, 55 years and older, with volunteer opportunities in their communities based on their personal preferences & talents. The possibilities are endless!  Rocky's AmeriCorps Seniors RSVP program serves Lewis & Clark, Broadwater, and Jefferson counties.
How Does The Program Work?
RSVP volunteers work individually throughout the community. By joining RSVP, you are working to lessen the possibilities of economic and health challenges for other retired seniors, veterans or homebound individuals in your community. We consider your personal preferences and interests for volunteering to ensure that you absolutely enjoy your time giving back.
How Do I Apply?
Please complete and submit the application form provided at the bottom of this page and mail it to:
Rocky Mountain Development Council, Inc. / RSVP
PO Box 1717
Helena, MT 59624
Sites Served by RSVP Volunteers
Rocky's Agency on Aging
Food Share, Inc.
Montana Talking Book Library
Rocky Meals on Wheels
Rocky Senior Center Services
Other community priorities are served by the RSVP Special Projects, a group of specially trained volunteers that work at over 40 different events and organizations in the tri-county area.