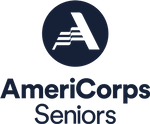 Foster Grandparent Program
The Foster Grandparent Program offers men and women, 55 years and older, the opportunity to mentor and assist children by sharing expertise, knowledge, and care on a volunteer basis.
How Does the Program Work?
Foster Grandparent volunteers work individually with children under the supervision of a teacher or child-care professional in elementary schools, preschools, Head Start classrooms, faith-based sites, or other nonprofit organizations. Volunteers serve between 5 to 40 hours per week. They may assist with academic projects or provide companionship and support to a child.
History of the Program
The Foster Grandparent Program was originally developed in 1965 as a cooperative effort between the Office of Economic Opportunity and the Department of Health, Education and Welfare. In 1971, the Foster Grandparent Program became part of the National Volunteer Agency ACTION. In 1994, the funding and administration of the Program changed to the Corporation for National Senior Service. All 50 states have Foster Grandparent Programs with a total of over 30,000 volunteers.
Benefits Of Becoming A Foster Grandparent
Nontaxable Stipend (Note that this is not a wage and does not affect Social Security, food stamp, rent assistance or other direct benefits that a volunteer may be receiving. The stipend is currently $3.00 per hour.)
Mileage Reimbursement related to the volunteer work.
Vacation
Sick Leave
Training
Annual Health Screening
Paid Holidays
Social events
Accident/Liability Insurance (secondary coverage only)
Most importantly, an opportunity to give back to the children and remain a vital part of the community!
How Do I Apply?
Complete the application form located at the bottom of this page and mail to:
Rocky Mountain Development Council, Inc. / Foster Grandparent Program
PO Box 1717
Helena, MT 59624
Area Served
Lewis & Clark, Silver Bow, Jefferson, Broadwater, Deer Lodge, and Powell Counties.