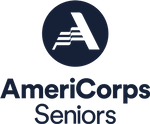 WHAT IS AMERICORPS SENIORS?
AmeriCorps Seniors connects seniors 55 and older with the people and organizations that need them most. We help them become mentors, coaches or companions to people in need, or contribute their job skills and expertise to community projects and organizations. Volunteers receive guidance and training so they can make a contribution that suits their talents, interests, and availability.
SENIOR COMPANION PROGRAM
The Senior Companion Program brings together volunteers age 55 and over with adults in their community who have difficulty with the simple task of day-to-day living. The program's goal is to maintain the independence of homebound seniors and adults with special needs, allowing them to continue living in their own homes.
FOSTER GRANDPARENT PROGRAM
The Foster Grandparent program offers men and women, 55 years and older, the opportunity to mentor and assist children by sharing expertise, knowledge, and care on a volunteer basis.
RETIRED SENIOR AND VOLUNTEER PROGRAMS (RSVP)
The Retired and Senior Volunteer Program (RSVP) matches retired men and women, 55 years and older, with volunteer opportunities in their communities based on their personal preferences & talents. The possibilities are endless!
---