Who Cares For The Caregivers?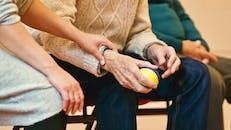 "The challenges and rewards of family caregiving are much more than any research study has ever captured. Families struggle, they look for help and support, they laugh, and they cry. They do all of this for the family member that has the greatest need. Yet, the demands of work and the needs of other family members continue. Balancing all of the demands can be overwhelming."
-Alan Stevens, Ph.D., family caregiver & RAISE Family Caregiving Advisory Council Co-chair
Rocky's Agency on Aging builds choice, dignity, and engagement of older adults in partnership with the communities of our six-county area of service. For many older adults, caregivers make all the difference in helping seniors age in place in their homes and community.  Therefore, Rocky Aging serves caregivers as primary customers. 
Do you help a loved one in your family or community with shopping, bathing, dressing, toileting, transportation, medication, or household activities, socialization, living arrangements, finances, or legal issues? If so, you are a caregiver!  
Caregivers require support to stay healthy, maintain emotional well-being, and attend to personal relationships, employment, or financial needs. In order to do the best job possible, caregivers must take care of themselves.  As flight attendants say before every flight, first put the oxygen mask on yourself before assisting others.
Rocky Aging Offers The Following Caregiver Services

TCARE (Tailored Caregiver Assessment and Referral) is a software program that educates and supports caregivers as they care for a family member or friend. The Rocky Aging Caregiver Coordinator assists throughout the process.  TCARE uses a series of questions to identify how caregiving could be improved.  This information becomes the basis for a caregiving plan.  TCARE offers ongoing support that guides and sustains quality services at every step along the caregiving journey.  To set up an appointment for TCARE, please contact Dana Reavis at dreavis@rmdc.net or (406) 603-4157. Alternatively, if you would prefer to start the T-CARE assessment on your own, you can use the following link to begin your TCARE assessment. 
Click here for information regarding TCARE
Powerful Tool For Caregivers
Powerful Tools for Caregivers is an evidence-based class that teaches you skills to help you take care of yourself while you care for someone else. Evidence-based means the class is grounded in research.  By taking care of your own health and wellbeing, you become a better caregiver. In six ninety-minute, weekly sessions, our certified class facilitators provide training, support, and additional resources for you as the caregiver. To better accommodate caregivers, this class is offered remotely. To find out more, please contact Michele at (406) 441-3985 or mmathot@rmdc.net.
Resource Specialists
Rocky Aging Resource Specialists inform caregivers about a wide range of services such as respite, home modifications, home delivered meals, support groups, etc.  In some cases, Resource Specialists authorize funding for these services.  Rocky Aging employs four Resource Specialists, two in Helena, one in Bozeman, and another in Livingston.  Resource Specialists are certified by the Montana DPHHS Aging Services Bureau.  They constantly educate themselves about caregiving supports to deliver cutting edge information to caregivers.  To make an appointment with a Resource Specialist, call 406-457-7368.