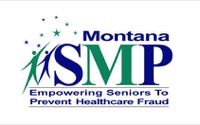 Montana Senior Medicare Patrol (SMP)
Empowering seniors to prevent healthcare fraud.
We know that healthcare-related paperwork can be confusing and that it's sometimes hard to know where to turn. Montana Senior Medicare Patrol (SMP) is here to help.
Montana SMP staff and volunteers provide education and outreach through presentations and one-on-one counseling.  Montana SMP can help you research billing questions or assist you with understanding and organizing your bills and Medicare Summary Notices (MSN). If a billing error is detected, Montana SMP can assist in correcting it, or in the case of potential fraud and abuse, we will refer you directly to the appropriate agency for investigation. 
Rocky's Agency on Aging SMP staff and volunteers advocate for seniors to help them understand their medical billing situations. SMP can help you learn how to read Medicare paperwork and look out for costly medical billing errors. SMP provides information, counseling and assistance to Medicare beneficiaries, family members, caregivers and local professionals.
For help or assistance with your Medicare, call 1-800-551-3191 or contact Area IV Agency on Aging at 406-457-7368.
Watch Montana SMP's "Understanding Medicare" video series as a fun way to learn more about SMP:
PSA from SMP!
Protect yourself against Medicare fraud with these simple rules.
AARP Fraud Watch Network
AARP Fraud Watch Network Website
Rocky's Agency on Aging is not affiliated with AARP, however, they some great fraud prevention resources.
The Perfect Scam Podcast
Tune in to hear the true stories and meet the real people involved in some of the country's most brazen scams. Now hosted by Emmy Award-winning investigative journalist Michelle Kosinski and featuring appearances by Frank Abagnale. It could help you protect yourself.
CareShare Monthly Newsletters