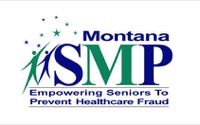 Montana Senior Medicare Patrol (SMP)
SENIOR MEDICARE PATROL (SMP)
Senior Medicare Patrol (SMP) is a national program that engages agencies and volunteers in educating Medicare beneficiaries about how to prevent, detect, and report Medicare fraud, errors, and abuse. Rocky's Agency on Aging serves SMP in Lewis & Clark, Jefferson, and Broadwater counties. Medicare fraud, errors, and abuse cost an estimated 70 billion dollars a year in taxpayer money.
For additional information, watch the Public Service Announcement from SMP! (Link to PSA)
CURRENT SCAM WARNING (Updates once a month)
WARNING! REPORT COVID-19 AT-HOME TESTS YOU DIDN'T ORDER
If you received Covid-19 test kits that you did not order in the past few months, call Montana SMP, who will complete fraud referral to the Office of the Inspector General.
CALL 1-800-551-3191!
Rocky Aging is seeking volunteers in Broadwater, Jefferson, and Lewis & Clark counties to help spread the word about SMP by providing presentations or working with beneficiaries individually to address their questions about SMP. Rocky Aging will train volunteers and support them in doing this important work. If you are interested in helping us out, please contact Dana at Rocky Aging at (406) 603-4157 or dreavis@rmdc.net.
Watch Montana SMP's "Understanding Medicare" video series as a fun way to learn more about SMP:
PSA from SMP!
Protect yourself against Medicare fraud with these simple rules.
AARP Fraud Watch Network
AARP Fraud Watch Network Website
Rocky's Agency on Aging is not affiliated with AARP, however, they some great fraud prevention resources.
The Perfect Scam Podcast
Tune in to hear the true stories and meet the real people involved in some of the country's most brazen scams. Now hosted by Emmy Award-winning investigative journalist Michelle Kosinski and featuring appearances by Frank Abagnale. It could help you protect yourself.
CareShare Monthly Newsletters